Learn more about temporary DCFMLA amendments under the COVID-19 Response Emergency Amendment Act of 2020.
Image: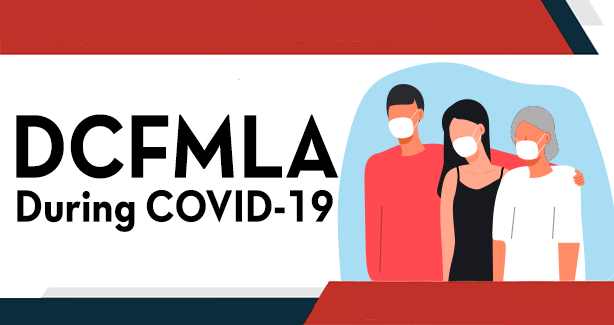 Featured Content Items:
On May 27, 2020, the Mayor signed D.C. COVID-19 Support Emergency Amendment Act (CSEA), D.C. Act 23-326, which replaces all previous Coronavirus-related legislation and temporarily amends the DCFMLA to create a new COVID-19 job-protected leave. It is important to note that Congress passed the Families First Coronavirus Response Act (FFCRA), which requires certain employers to provide paid leave for COVID-19 related reasons. For guidance under FFCRA, see the United States Department of Labor's website at: https://www.dol.gov/agencies/whd/ pandemic/ffcra-employee-paid-leave. Similarly, CSEA also amended the District Paid Sick and Safe Leave Act (D.C. Code § 32-531.02a) which requires certain employers to provide paid leave for COVID-19 related reasons based on FFCRA.
KEY PROVISIONS OF THE CSEA
COVID-19 Leave (D.C. Code § 32-502.01): During the public health emergency, an employee who has worked for 30 days for an employer of any size may use up to 16 weeks of "COVID-19" leave for one of the following reasons: Care for Self, Family or Household Member or Childcare Closure. The right to COVID-19 Leave terminates when the public health emergency has ended, even if an employee has not exhausted the 16-week entitlement.
Certification (D.C. Code § 32-502.01(c)): For COVID-19 Leave, an employer may request certification of the need for leave, including a signed, dated letter from a healthcare provider, including a probable duration, or a statement by a childcare provider or a printed statement from the childcare provider's website.
Penalties: Violation of the COVID-19 Leave provision (D.C. Code § 32-502.01) could result in a civil penalty of $1000 per offense in addition to any damages outlined in D.C. Code § 32-509.
Effective Dates: CSEA is retroactive, effective March 11, 2020 and will expire at the end of a declared public health emergency. Currently, the state of public health emergency will expire October 9, 2020, pursuant to Mayor's Order 2020-079.
"COVID-19 Public Health Emergency" means Mayor's declarations of emergencies under MO 2020-045 and MO 2020-046 and any extensions thereof.
No Effect on Traditional Family and Medical Leave: CSEA does not change the definitions of employer and employee, or eligibility for traditional family and medical leave entitlements, i.e., the employee must have worked for one year without a break in service and at least 1,000 hours in the preceding twelve months, and only employers with 20 or more employees are covered. .
RESOURCES
For the latest updates on the District's response to Coronavirus (COVID-19), visit
coronavirus.dc.gov
.