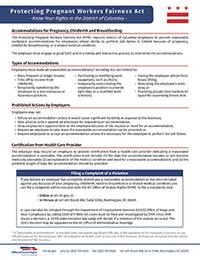 The Protecting Pregnant Workers Fairness Act of 2014 (PPWFA) requires District of Columbia employers to provide reasonable workplace accommodations for employees whose ability to perform job duties is limited because of pregnancy, childbirth, breastfeeding, or a related medical condition. Individuals who believe they were denied a reasonable accommodation or treated unfairly in violation of PPWFA may file a complaint with the DC Office of Human Rights (OHR). If a violation is found, employers may be required to provide monetary or other relief to the employee.
Typical reasonable accommodations can include but are not limited to:
More frequent or longer breaks;
Time off to recover from childbirth;
Temporarily transferring the employee to a less strenuous or hazardous position;
Purchasing or modifying work equipment, such as chairs;
Temporarily restructuring the employee's position to provide light duty or a modified work schedule;
Permitting the employee to refrain from heavy lifting;
Relocating the employee's work area; or
Providing private (non-bathroom) space for expressing breast milk.
Complaints can be filed with the Office of Human Rights (OHR). OHR will perform the initial mediation and investigation. If probable cause exists, administrative law judges at the Commission on Human Rights will make a final determination.
All District employers must post and maintain a PPW workplace poster in a conspicuous place, and provide an employee notice of the law within 10 days of an employee notifying them of their pregnancy or other condition addressed in the Act. Workplace posters are available below.
File a Complaint
To file a complaint, you may Submit the Online Questionnaire or download and complete the Protecting Pregnant Workers Fairness Act questionnaire and send it to [email protected] or by mail to:
DC Office of Human Rights
441 4th Street NW, Suite 570N
Washington, DC 20001
Resources
Workplace Poster: English (PDF)
Workplace Poster: Spanish (PDF)
Fact Sheet: English (PDF)