In 2019, and the first year of implementing the Street Harassment Prevention Act (SHPA), OHR and the Advisory Committee on Street Harassment (ACSH) received and analyzed 1,621 responses to a city-wide survey, conducted ten focus groups, launched a public awareness campaign, and came together to recommend trainings, a reporting mechanism, and policies for District agencies. Protecting the human rights of all persons within the District of Columbia is OHR's highest priority and preventing street harassment in public spaces is ACSH's main goal.
During this week, the District of Columbia Office of Human Rights (OHR) released the District's first report on the State of Street Harassment in the District, detailing it's prevalence, communities affected most, and recommendations towards reducing and preventing incidents in our city. Read the full report for more information on local statistics.
Download the Full Report - PDF (6.7MB)
Download the Executive Summary - PDF
___________________
What is the Street Harassment Prevention Act?
The Street Harassment Prevention Act of 2018 (SHPA), is a first of its kind legal measure in the United States that: (1) creates a legal definition of street harassment; (2) establishes a community-based Advisory Committee to study street harassment and develop model policies and trainings; and (3) requires a public information campaign on street harassment. It was designed to uniquely focus on prevention through education instead of criminalization.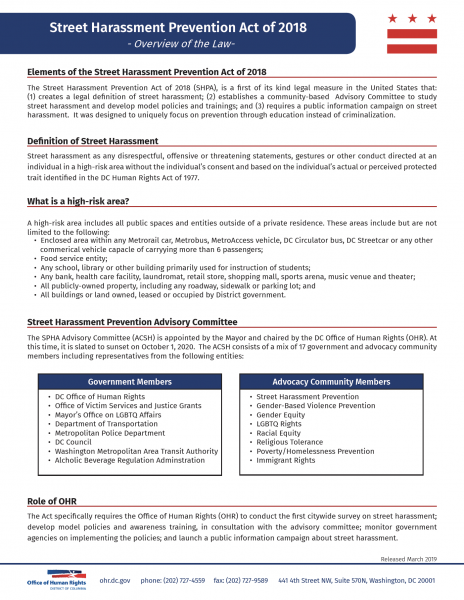 What is the definition of Street Harassment?
Street harassment is any disrespectful, offensive or threatening statements, gestures or other conduct directed at an individual in a high-risk area without the individual's consent and based on the individual's actual or perceived protected trait identified in the DC Human Rights Act of 1977.
What is a high-risk area?
A high-risk area includes all public spaces and entities outside of a private residence. These areas include but are not limited to the following:
Enclosed area within any Metrorail car, Metrobus, MetroAccess vehicle, DC Circulator bus, DC Streetcar or any other commerical vehicle capacle of carryying more than 6 passengers;
Food service entity;
Any school, library or other building primarily used for instruction of students;
Any bank, health care facility, laundromat, retail store, shopping mall, sports arena, music venue and theater;
All publicly-owned property, including any roadway, sidewalk or parking lot; and
All buildings or land owned, leased or occupied by District government.
For an overview of the law, download the Street Harassment Prevention Act of 2017 overview (PDF).
Advisory Committee on Street Harassment Quarterly Meetings (open to public)
The Advisory Committee on Street Harassment (ACSH) is appointed by the Mayor and chaired by the DC Office of Human Rights (OHR). The ACSH consists of a mix of 17 government and advocacy community members. The ACSH meetings are held from 2:00 p.m. to 4:30 p.m. at One Judiciary Square, 441 4th Street, N.W., Conference Room 1112 South, 11th Floor, Washington, D.C. 20001 unless otherwise noted. The current meeting schedule is as follows:
Wednesday, March 24, 2021
Wednesday, January 27, 2021
Wednesday, November 18, 2020
Wednesday, July 15, 2020
Wednesday, March 18, 2020
Wednesday, January 15, 2020
Wednesday, December 4, 2019
Wednesday, November 6, 2019
Wednesday, September 11, 2019
Wednesday, June 26, 2019