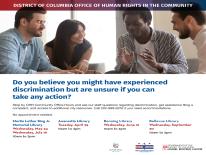 Last Date:
Room:
Community Space 2nd Floor
Details:
Do you feel like you have experienced discrimination, but are unsure what to do?
Stop by OHR In the Community to ask our staff questions about discrimination, get assistance filing a complaint, and access additional city resources. Call 202-899-6252 if you need accommodations.