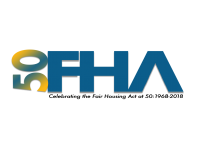 Last Date:
Location:
200 I Street SE, Washington, DC 20003
Details:
Do you own property or represent a client that has property in multiple jurisdictions and are confused about the different Fair Housing laws?
Join the DC Office of Human Rights for our Fair Housing Act 50th Anniversary Symposium on Tuesday, April 10th from 10 a.m. to 1 p.m. at 200 I St SE (just a few blocks from Navy Yard Metro Station). We will be giving out vital information, resources, and clarity for housing providers and stakeholders on fair housing laws and enforcement in multiple jurisdictions, including the District, Maryland, and Virginia (DMV). The event will consist of a light breakfast, networking session, and then a panel discussion surrounding the barriers to fair housing from different perspectives in the housing community. Find out some of the roadblocks housing providers face in providing adequate housing or complying with the fair housing laws and how companies have been innovative in creating solutions. Additionally, we will provide an in-depth overview of the Fair Criminal Record Screening for Housing Act of 2016 that is specific to DC.
As we observe the 50th anniversary of the iconic Fair Housing Act of 1968, we note the progress that has been made nation-wide and locally over several decades but strive to be a part of the opportunities for greater equity and fairness that lie ahead in the next 50. Join us!
This event is FREE! Register now at fha50dc.eventbrite.com.
If you are in need of a reasonable accommodation or language interpretation at the event, please contact the event organizer at (202) 727-1145 or by email at [email protected] by April 4, 2018.
http://fha50dc.eventbrite.com