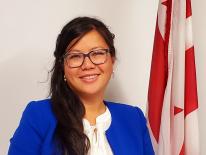 Hnin Khaing
Director, DC Office of Human Rights
Hnin Khaing is a seasoned civil rights attorney with over fourteen years of experience, a deep understanding of human rights laws, and experience serving District residents.  Director Khaing recently served as OHR's General Counsel where she reviewed agency decisions, directed rulemaking and vigorously pursued the public interest by prosecuting probable cause cases before the Commission on Human Rights, which included securing relief for complainants as well as changes to respondent's discriminatory policies and practices. She has also previously served as OHR's Deputy Director, where she developed and led the launch of the District's first-ever EEO Training and Certification program for EEO Counselors and Officers.  Today, this program is open to all District government employees. 
In addition to enforcement, as part of the agency's mission to eradicate discrimination, Director Khaing is passionate about community outreach, education and training.  She has spoken at a number of community events on various topics including age discrimination, gender identity and expression discrimination, hair discrimination, ban the box, fair housing laws and workplace fairness.  Educating the legal community, she has also been the faculty for D.C. Bar's CLE program on employment laws in the District.
Director Khaing was born in Myanmar (Burma), but has called the District her home since the late 1980s.  She is a graduate of University of Maryland, College Park, and earned her Juris Doctor from Florida Coastal School of Law.  When she is not working, she enjoys walking her rescue dog, baking, running in local races, and learning new languages.