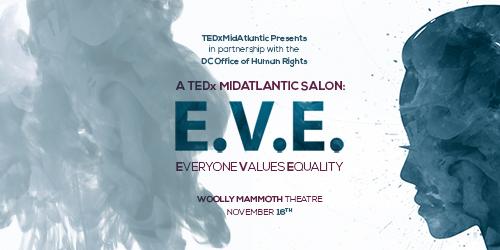 TEDxMidAtlantic in partnership with our agency, the District of Columbia Office of Human Rights, held the TEDxMidAtlantic salon "EVE: Everyone Values Equality" before a packed Woolly Mammoth Theatre in the District of Columbia on November 16, 2015. The talks from speakers explored the realities women face in the United States today, and how to move toward a 21st century of equal opportunity regardless of gender and gender identity. You can see talks from all the speakers below.
Elizabeth Acevedo - Writer, Performer and Educator: "I use my poetry to confront the violence against women"

Teresa Hodge - Returning Citizen Advocate: "We have made coming home from prison entirely too hard"

Heather Foster - My Brother's Keeper Alliance: "It's time we change our perceptions of strong leaders"

Lisa Mallory - DC Building Industry Association: "Don't only blame men: What women can do to fight inequality"

Sarah McBride - Transgender Advocate: "Gender assigned to us at birth should not dictate who we are"

Brigid Schulte - Bestselling Author: "How to work, love and play when no one has time"

Neera Tanden - Center for American Progress: "Lack of paid leave is holding women back from leadership roles"

Performance by Loide: "In time, we will all come out okay"