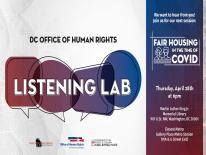 Last Date:
Details:
We want to hear from you! Join us for our next listening lab: Fair Housing in the Time of COVID.
Thursday, April 28th
6 pm
Martin Luther King Jr. Memorial Library
901 G. St NW, Washington DC
Closest Metro: Gallery Place Metro Station (9th & G Street Exit)
Register Here.