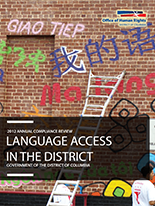 "Our program exists so all people in the District receive access to vital government services, no matter the language they speak."
- Language Access Program Director Mónica Palacio
This report intends to inform elected leaders, government officials, advocates and the public about the compliance of District government agencies with the requirements of the DC Language Access Act of 2004. The Act requires that all District agencies, and service providers contracted by agencies, provide interpretation services for customers who are Limited English Proficient (LEP) or Non-English proficient (NEP). Translation of vital documents, training for personnel in public contact positions and tracking of LEP/NEP customers are also required by the Act.
This report analyzes the compliance levels of 32 government agencies designated as having "major public contact," and therefore bound to additional obligations under the Act. Accomplishments agencies have made in compliance and gaps that still undermine full accessibility for LEP/NEP customers are highlighted. The report – which provides LA compliance scorecards for 32 agencies with major public contact – calls particular attention to three areas where improvements are most needed: (1) tracking LEP/NEP customers; (2) translation of vital documents for customers; and (3) accessibility of agency websites.
Download the report:
Highlights of 2012 - Web Quality (3 MB PDF)
Learn more about the Language Access Program.