Did you know that over 70,000 people in Washington, DC have a disability? Making sure your restaurant is accessible for all customers is an easy thing to do and good business practice. "Serving All: A Guide to Being Accessible for Your Customers and Community," assists you to improve accessibility in your restaurant, and help increase your sales by distinguishing your restaurant as a welcoming and inclusive place for all patrons. Specifically, it focuses on four areas where accessibility can be considered: (1) the restaurant atmosphere; (2) outside the restaurant; (3) inside the restaurant; and (4) your virtual presence. The goal is to provide guidance and suggestions on things you can do to ensure customers with disabilities consider your restaurant to be a destination spot!
Take the Pledge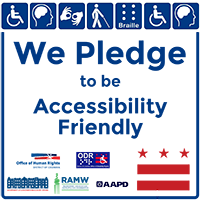 Furthermore, we encourage you to "Take the Pledge" -- we have decals for your restaurant window, where you can state your pledge to be accessibility friendly. To request a window decal for your restaurant, please send your business name and address to elliot.imse (at) dc.gov. We will send it to you at no cost.
Information in the guidebook is written by the American Association of People with Disabilities (AAPD), and was commissioned by the DC Office of Human Rights in partnership with the DC Office of Disability Rights, DC Department of Consumer and Regulatory Affairs and the Restaurant Association of Metropolitan Washington.