Take a few moments to learn about how Haregewine contributes to the District. Read more about her below, and view and download her print and radio ads.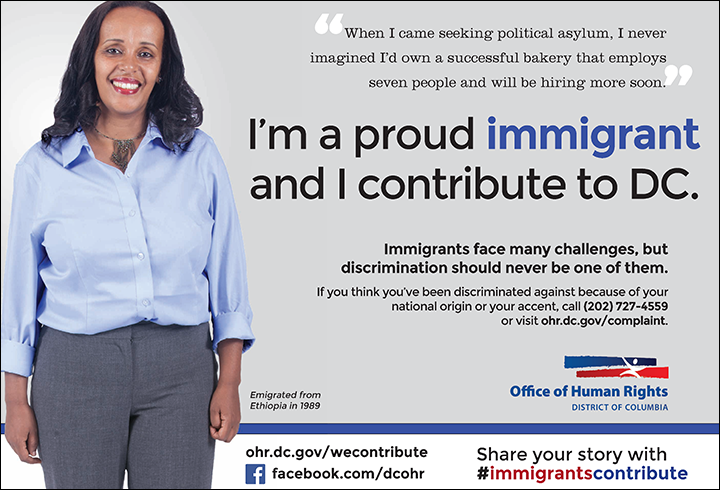 Download the full-size advertisement (PDF)
Haregewine emigrated from Ethiopia in 1989 to seek political asylum, and was the first in her family to come. She quickly received a work permit, and started as a waitress at Georgia Café on Georgia Avenue, despite it being difficult to understand American English. After some time, she went to bartending school and eventually to nursing school at the University of the District of Columbia, but soon realized nursing wasn't her calling. She instead returned to waitressing, and began taking interest in how the chefs prepared dishes. This interest urged her to attend culinary school at Stratford University, and to open a bakery and coffee shop on 9th and U Street. Yet the predominantly Ethiopian area presented a dilemma: in her culture, fasting from animal-derived products was the norm 265 days out of the year. Therefore, she began experimenting with vegan dessert recipes to tailor to the neighborhood, and after a couple months her bakery was featured in the Washingtonian. She soon began to sell her products to regional Whole Foods markets, and is now looking to expand to Costco. In July, Haregewine moved the Chez Hareg Gourmet Bakery to a new location in order to fit the needs of her expanding business, and is planning to open a local grocery market on H Street in the near future. She currently has seven employees but will be hiring more to meet the increased production at her new bakery. When she is not busy with work, Haregewine loves to read, spend time with family, and take walks in the garden around St. Francis Monastery at Catholic University.
Radio Announcement
Listen to Haregewine's radio announcement in Amharic. The announcement can also be heard in English.