Take a few moments to learn about how Anna contributes to the District. Read more about her below, and view and download her print and radio ads.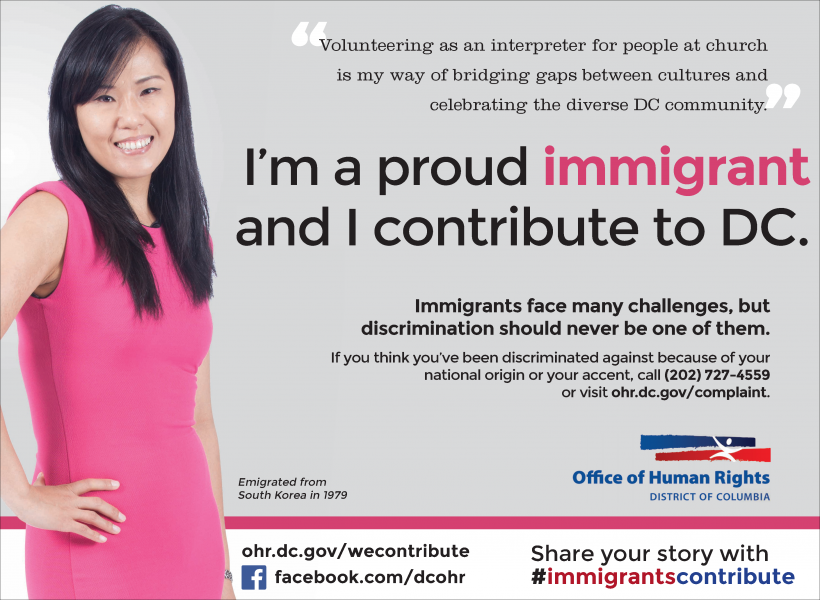 Download the full-size advertisement (PDF)
Anna moved to the United States from South Korea when she was just three years old, after her father found employment in the US and wanted his family to enjoy the country's freedom. The cultural and language barrier for the family – especially Anna's parents – was difficult, and her father worked extremely hard to provide for the family. Yet Anna's parents emphasized a belief that anything is possible if you work hard, and now Anna has both a bachelor's degree and master's degree. Acknowledging her parent's difficulty learning American culture, Anna now volunteers as an interpreter to help others who may not be able to access services because of the language barrier. She also interprets at her church so that binational couples can both attend the same service. When not volunteering, Anna enjoys trying new restaurants on U Street and in Adams Morgan, and attending events such as the Cherry Blossom Festival.
Radio Announcement
Listen to Anna's radio announcement in Korean. The announcement can also be heard in English.