Take a few moments to learn about how Ana contributes to the District. Read more about her below, and view and download her print and radio ads.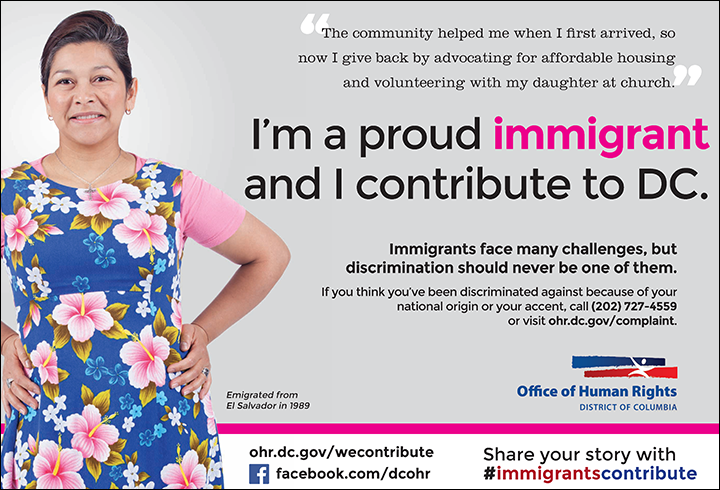 Download the full-size advertisement (PDF)
Ana moved from El Salvador to the United States in 1989, living and working with her sister in a cleaning business. Today, she works to clean offices in a federal building, and says she enjoys her job because of the respect she is given by other employees and the assistance she provides for people at work. Ana immigrated to the US unable to speak English, but has learned it by participating in everyday conversations. She says she was fortunate to be quickly embraced by the Salvadorian community in DC, so now she gives back by advocating for affordable housing and against housing discrimination. Since 2008, she has helped to increase attendance at tenant meetings and encouraged people to voice complaints about substandard living situations. She also often helps friends and neighbors by speaking English on behalf of those who have not yet learned. When not working or advocating for her community, Ana loves to spend time with her daughter. They enjoy volunteering at their church, taking care of their pet guinea pigs, and eating seafood while sitting by the Potomac River.
Radio Announcement
Listen to Ana's radio announcement in Spanish. The announcement can also be heard in English.