"We, in the District, are still standing strong together and asserting our DC Values of access to justice and equality for all. A message we are confident can and will inspire change beond our borders."

- Director Mónica Palacio
In 2017, OHR commemorated the 40th anniversary of the historic passage of the DC Human Rights Act of 1977. The fiscal period was also met with the steady number of inquiries of discrimination and docketed cases as well as progressive policy and outreach work achieved to uphold the spirit of the landmark law. Our Highlights of Fiscal Year 2017 report provides details of these cases and others, and looks into the proactive work of the agency. Highlights include: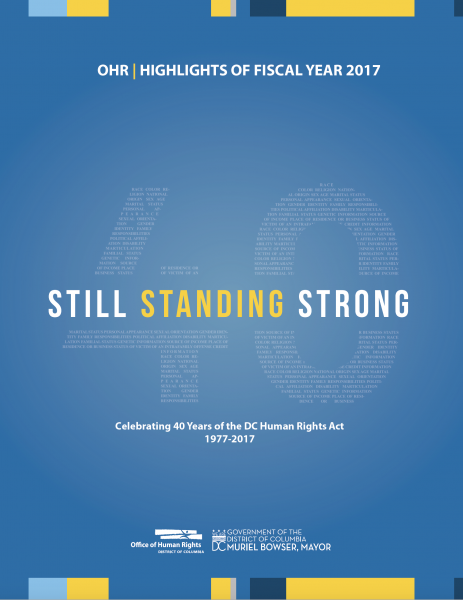 OHR received 1,956 inquiries and docketed 706 cases alleging a violation of the Human Rights Act, 209 under the Fair Criminal Record Screening Amendment Act, 9 under the Language Access Act, and 6 under the Protecting Pregnant Workers Fairness Act;
Sex remained the most commonly listed protected trait of our docketed cases;
41 percent of mediated cases (284 of 693) were settled successfully at that stage;
$2.8 million was awarded to complainants through settlements via mediation;
OHR worked with an interagency response team to put our DC Values in Action to address and prevent hate crime and bias-related activity in the District;
TEDx Talks on implicit bias from our Salon Series Disruption received over 50,000 total views; and
4,746 District government employees were trained by our Language Access team.
We are proud to share these numbers - and our Highlights of Fiscal Year 2017 report - with you. We appreciate your support of our work, and will continue to stand strong together against discrimination in the District.
Download the report: