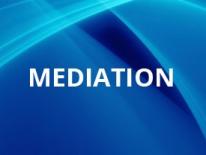 The DC Human Rights Act requires that all cases are mediated. Mediation is an alternative dispute resolution (ADR) program implemented by OHR that typically occurs within 45 days after the acceptance of the complaint.
The goal of mediation is to resolve the complaint before a full investigation begins. A successful mediation reduces the case processing time by up to 180 days and saves the parties litigation costs. Since mediation is a priority within OHR's enforcement process, once a case has been docketed, the complaint is immediately transferred to the mediation unit. Below are some basic facts about OHR's mediation program:
Both certified OHR staff and ADR professionals conduct the mediation sessions.
The main role of the mediator is to assist the parties in finding a mutually acceptable resolution of a complaint.
While mediation is not a legal process, OHR allows legal representation in an advisory capacity during the sessions.
As with national standards of practice, all OHR mediations are confidential and no aspect of the mediation can be used in any subsequent litigation of the complaint.
Click on the link below to learn more about OHR's Mediation program or call OHR at 202/727-4559.