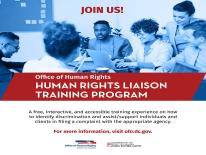 Last Date:
Details:
The Office of Human Rights is excited to announce the Human Rights Liaison Training Program 2.0!
The purpose of this new training program is to prepare liaisons to 1) identify discrimination and 2) assist/support complainants in filing a complaint with the appropriate agency. This 5-hour training will focus on four main components:
Increasing Understanding, in which we will cover a brief history of human rights and D.C.'s role in the struggle.

Reducing Prejudice, in which we will dive into identifying discrimination and providing reasonable accommodations.

Ending Discrimination, in which we will examine what happens after discrimination occurs and the proper channels to file a complaint.
The Role of a Human Rights Liaison.
What you'll get from the 2.0 training:
An interactive, accessible learning experience

Strategies for preventing discrimination through education
Supplementary trainings that focus on specific areas, i.e. discrimination in employment or housing, the 21 protected traits, etc. ( to be offered at a later date)
The first Human Rights Liaison Training Program for Fiscal Year 2022 will take place virtually on January 26, 2022 from 10 am. to 3:30 p.m. Breaks will be provided through the session.
Please RSVP by clicking here. Feel free to contact Dr. Mia Carey at [email protected] with any questions or concerns