Call for Applications: Mayor's Citywide Bullying Prevention Task Force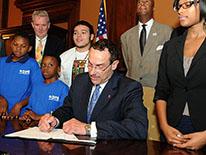 DC OHR is excited to release an official Call for Applications for community advocates, teachers, school mental health professionals, advocates, parents/legal guardians and youth* to be a member of the Mayor's Bullying Prevention Task Force.

In order to receive consideration you must complete the attached forms and return the documents along with a current resume or biography statement either by mail, fax or email by 5 pm, Friday, July 27, 2012 to:

Mikelle L. DeVillier
Deputy Director
Office of Boards and Commissions
John A. Wilson Building
1350 Pennsylvania Avenue, NW
Suite 300-G
Washington, DC 20004
Phone: (202) 727-1372
Fax: (202) 727-2359
Email: mikelle.devillier@dc.gov

1. Tax Waiver Form (PDF)
2. OBC Application (PDF)
3. A current resume or biography statement. In this component, please indicate that you seek Task Force membership as one of the following: (1) advocate, (2) teacher, (3) school mental health professional, (4) parent/legal guardian or (5) youth.
If you have any questions, please do not hesitate to call or email Jennifer Stoff, DC OHR Deputy Director at Jennifer.stoff@dc.gov or Mrs. DeVillier.
*District of Columbia Youth between ages 16 - 22 interested in applying to be a youth representative of the city-wide Mayor's Bullying Prevention Task Force should complete the required forms and submit the documentation as outlined including name of school affiliation. If you are a youth under the age of 18 you must have parental or caregiver consent. Youth applicants must be a District of Columbia resident and enrolled in either a District of Columbia based school or certified home schooled and be in good standing for consideration. Accommodations can be made for youth with special needs or language access. All applications will be considered.